Who Can Help
CAN'T FIND ALL THE INFORMATION YOU NEED? LOOK HERE!
If you'd like to take your bedwetting research to the next level, there are plenty of resources, which you may find helpful. The Google Search engine is useful to search for local and national organizations and groups that may be able to help.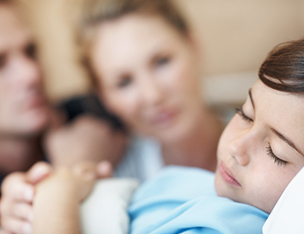 NATIONAL CONTINENCE HELPLINE
The National Continence Helpline is run by the Continence Foundation Australia and funded by the Australian Government Department of Social Services. It is staffed with knowledgeable and experienced nurses and continence advisors, who are there to answer any questions you have.
The helpline is free and can be reached on 1800 33 00 66. The line is open from 8am to 8pm (AEST), Monday to Friday.
The Continence Foundation website is also a useful resource for all things bedwetting.
BLADDER AND BOWEL WEBSITE
The government Bladder and Bowel Website is a useful resource for information brochures about bedwetting. You may find some of the following information from the Department of Health and Ageing helpful:
1. Childhood Bedwetting Brochure: About childhood bedwetting
2. The Dry Night: Eight step guide for parents of children who wet the bed
3. Watertight: A guide for older children and parents about bedwetting
NATIONAL PUBLIC TOILET MAP
Locate public toilets all over Australia with the National Public Toilet Map. Funded by the Department of Social Services, it includes information for more than 16,000 locations throughout Australia.
HUGGIES AUSTRALIA PARENTING FORUM
The Huggies Forum is a great place to start if you're looking for advice from other parents who have been through bedwetting. Sometimes it's nice to just have some emotional support, too!
EDUCATION AND RESOURCES FOR IMPROVING CHILDHOOD CONTINENCE (ERIC)
ERIC is a UK-based charity with a huge amount of bedwetting information on their website. They also have a support forum, if you wish to interact with like minded parents.
FACEBOOK
Facebook can be a great tool for locating local groups about bedwetting and parenting. You may even find a parenting group close to where you live.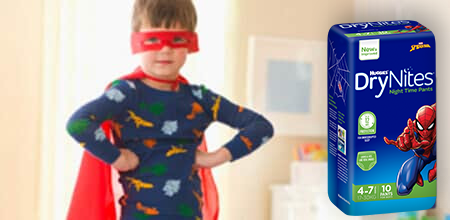 DryNites® Pyjama Pants
DryNites® Pyjama Pants are a discreet, comfortable and absorbent form of bedtime protection.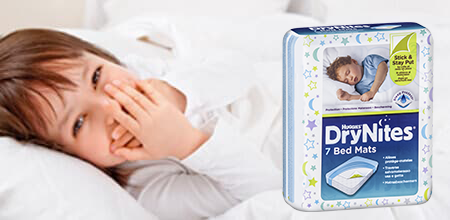 DryNites® Bed Mats
DryNites® Bed Mats combine the security of a bed protector with the convenience of a single-use disposable cover.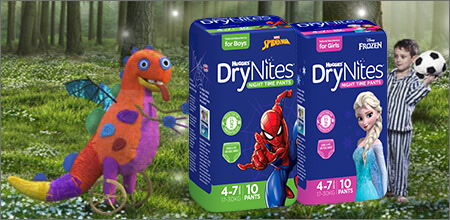 DryNites® Request a sample
DryNites® Pyjama Pants help kids stay dry. Request a free DryNites® Pyjama Pants sample today.