Enuresis Clinics
WHO KNOWS WHAT TO EXPECT AT AN ENURESIS CLINIC? WE DO!
Enuresis clinics, also referred to as bedwetting clinics, specialise in figuring out why your child is wetting the bed. From there, they will treat the specific cause directly until your child no longer wets the bed. Most parents only turn to enuresis clinics when they have exhausted all other options and when their child is seven years or older.
If you've tried other bedwetting treatments with no success, your child may have a condition which is preventing them from staying dry at night, such as a sleep disorder. If this is the case, a clinic is usually the best course of action and will get the best results for your family.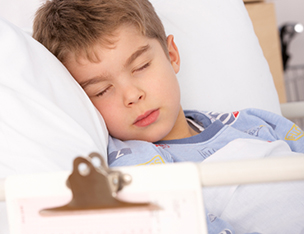 HOW DO ENURESIS CLINICS WORK?
The experts at enuresis clinics will first spend some time analysing your child's sleeping and bedwetting patterns. If you have recorded anything in a bedwetting journal or even taken some notes on your phone, these will be helpful in your child's evaluation. A full medical history may also help the specialists get to the bottom of why your child wets the bed.
When the initial evaluation is complete, you will usually be assigned a continence advisor or nurse, who will come up with a treatment plan that works for your child. Your advisor will continue to meet with you and your child at regular appointments until they stop wetting the bed.
WHICH TYPES OF SPECIALISTS WORK IN ENURESIS CLINICS?
In any given enuresis clinic, you may find a combination of the following:
General practitioners
Urologists
Paediatricians
Nurses
Psychologists
Continence advisors (usually also nurses)
HOW WILL BEDWETTING BE TREATED AT AN ENURESIS CLINIC?
Treatment will always begin with the least invasive methods. You may have even previously tried some of them yourself at home, such as bedwetting alarms and bladder training. If this is the case, you can let your continence advisor know if a certain tactic wasn't successful. Keep in mind; the success of such treatments is enhanced when paired with professional support so just because you've tried it once does not mean it won't work the second time around!
If your child has an underlying condition, which is causing them to wet the bed, treatment will be specific to that cause and will vary from case to case.
Bedwetting medication is sometimes offered, however, if it is your preference to avoid drug therapy, tell your advisor so they can exclude it from the treatment plan.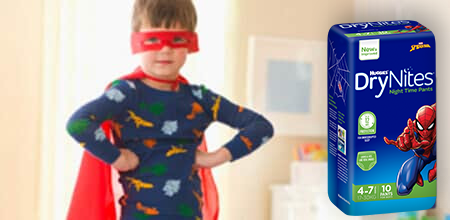 DryNites® Pyjama Pants
DryNites® Pyjama Pants are a discreet, comfortable and absorbent form of bedtime protection.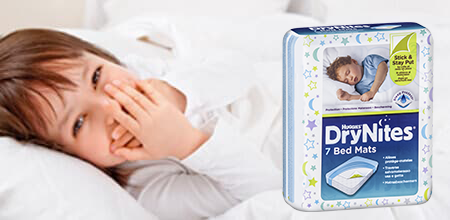 DryNites® Bed Mats
DryNites® Bed Mats combine the security of a bed protector with the convenience of a single-use disposable cover.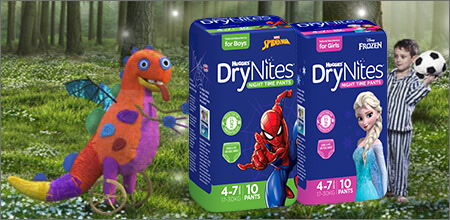 DryNites® Request a sample
DryNites® Pyjama Pants help kids stay dry. Request a free DryNites® Pyjama Pants sample today.